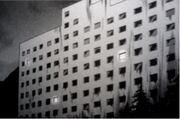 The School is the location where the Flock, Erasers, and other various mutants were created, first appearing in The Angel Experiment. It is one of many labs run by Itexicon.
The Flock refers to the staff as whitecoats.
The Flock is mistreated and abused, kept in dog crates during their time there. Most other experiments die quickly, and some survive for a very short time.
It is located in California, specifically in Death Valley, eight miles north of the Badwater Basin.
The lab building had a yard out back where Erasers were trained to kill prey. A low redbrick building stood about a hundred yards away. The air outside was pollute and foul. Indoors, the lab halls were brightly lit and smelled like floor cleaner and office machines. It had a large parking lot and additional parking underground, seen in Saving the World and Other Extreme Sports.
For other facilities, see Itexicon.
Although the School was presumably shut down after the third book and its status after the Apocalypse is unknown, in Maximum Ride Forever Max meets other bird kids including Harry in Death Valley. Harry's location, and his backstory of being kept in a cage and experimented on, are similar to that of the Flock.
Community content is available under
CC-BY-SA
unless otherwise noted.