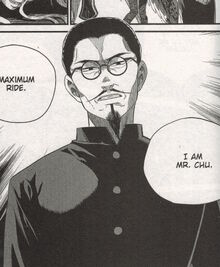 Robert Chu, known as Mr. Chu, was an enemy of CSM and the Flock.
Mr. Chu appeared for the first time in MAX, where he first kidnapped Max, trying to convince her to join his cause, then kidnapped Dr. Valencia Martinez as a form of blackmail when Max refused. He was caught dumping radioactive materials in the Pacific Ocean, which created the Krelp. He later escaped destruction.
He appeared briefly in FANG, kidnapping children in Chad, Africa, to experiment on them. The Flock also encountered him down in Dr. Hans Gunther-Hagen's lab, where his "face" came off, leaving Iggy holding a "disgusting face glove." He was revealed to also be a mutant, with a green, scaly reptilian face like that of a young boy.
Mr. Chu's fate is unknown beyond the sixth book.
Dr. Gunther-Hagen seemed to exercise authority over him in the lab.
The M-Geeks temporarily worked under him in MAX.
He had somewhat of a hard rule, as shown when he ejected his fourth-in-command into the ocean to die when they failed him.